Description
Exact Female Albino Ball Python Life Span
This is our Exact Female Albino ball python; she is 262g what a sweetie. With proper care, a baby ball python can live 30 years or more. The oldest recorded age of a ball python is more than 40 years – therefore expect to be caring for your new pet ball python for sale for a long while!
Exact Albino Ball Python Cage and Ball Python habitat setup
Nall pythons for sale enclosures can be as simple or as elaborate as you want to care for. Remember that the more you put in the cage, the more you have to clean and disinfect on a regular basis. That said, there are different enclosures that work well for ball pythons, including, but not limited to, plastic sweater boxes (i.e. Rubbermaid), melamine racks, and any of the commercially available, plastic-type reptile cages. Glass aquariums and tanks are adequate for ball pythons, but the screen tops on such enclosures can make it very difficult to maintain proper humidity levels.
Juvenile ball pythons seem to do well in small enclosures that make them feel secure. A small snake in a big cage can become overwhelmed and stressed. Adult ball pythons do not require exceptionally large or elaborate enclosures either. A 36-inch by 18-inch by 12-inch enclosure will more than comfortably house an adult ball python.
Exact Albino Ball Pythons for sale – Lighting and Temperature
Remember that enclosure must allow for a proper thermal gradient that the Albino ball python for sale can utilize, with a hotspot on one end of the enclosure and a cool spot on the other. Provide your ball python with a basking spot temperature of 88 to 96 degrees Fahrenheit and an ambient temperature of 78 to 80 degrees. The ambient temperature should not fall below 75 degrees. It is vitally important to know the temperatures at which you are keeping your snake(s). Do not guess! A great way to monitor temperatures is to use a digital indoor/outdoor thermometer with a probe. Stick the thermometer to the inside of the cage on the cool end and place the probe on the warm end, and you'll have both sides covered at once.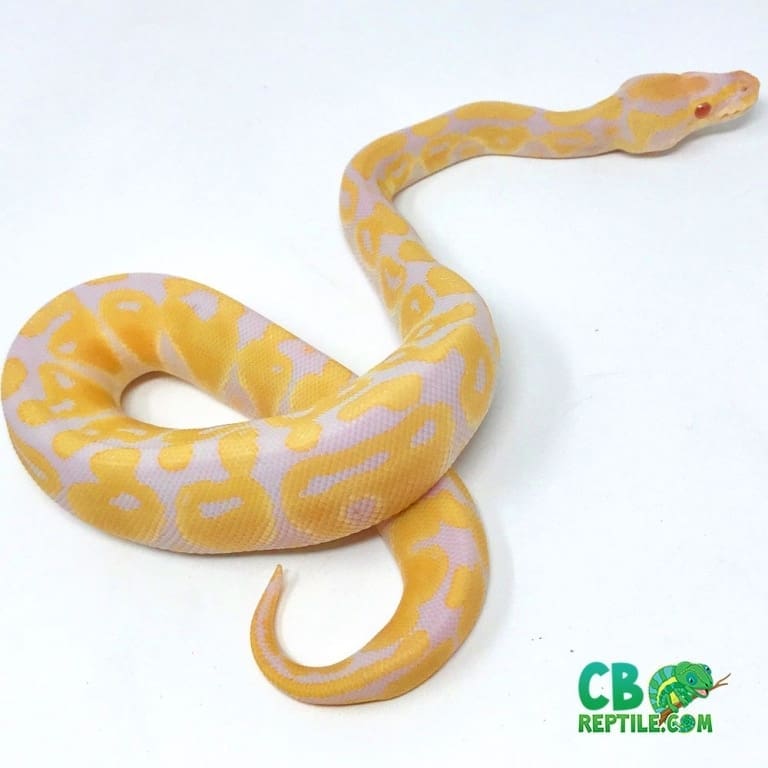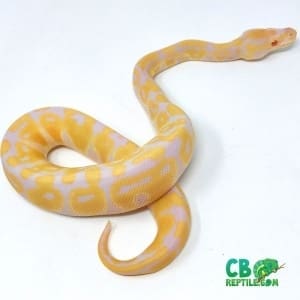 Baby Albino python Substrate
Newspapers and paper towels are the cheapest and easiest substrates for ball pythons with regards to cleaning and disinfecting – out with the old, in with the new. Cypress mulch and orchid bark are great substrates for controlling humidity but remember that too much humidity can be as detrimental (if not more) as too little. Never use any substrate containing cedar, as it contains oils that can be deadly to reptiles! Avoid sand, shavings and peat bedding.
What Food to Feed an Exact Albino Ball Python for sale
Feed your new baby albino ball python for sale an appropriately sized rodent weekly. "Appropriately sized" means prey items that are no bigger in circumference than the ball python at its largest circumference. Albino Ball pythons for sale can eat rats from the time they are young – starting off with rat pups or "crawlers" at first and moving up in size as they grow. Do not handle your ball python for at least a day after feeding, as this can lead to regurgitation. Ball pythons can be fed frozen/thawed or pre-killed rodents. Never leave a live rodent unattended with any snake, as they can injure the snake.
Baby Albino Ball Pythons and Water
Always have fresh, clean water available for your ball python. Check the water daily. The size of the water dish is up to you. If it is large enough for the ball python to crawl in to and soak, sooner or later your snake will make the most of the opportunity – ball pythons seem to enjoy a nice soak from time to time. Ensure that the water bowl is not too deep for juvenile animals – 1 inch or so will suffice. Snakes of many species will defecate in their water bowls from time to time, so be prepared to clean and disinfect the water bowl. The water bowl should be cleaned and disinfected on a weekly basis. Having a spare water bowl for such occasions can be handy, so that one may be used while the other is being cleaned.
Ball python for sale – Handling and Temperament
Ball pythons are generally shy and will spend much of their time hiding. Your ball python may initially see you as a threat and it must learn who you are. The goal is to establish trust between you and your snake.
Always support your Albino ball python's body and avoid fast movements. Once a ball python realizes that you will not hurt it they often seem to enjoy being handled. Some ball pythons may try to hide when handled and occasionally there are ones that may even bite due to excessive fear. These ball pythons may require a bit more time to settle in and establish trust. An Albino ball python's bite is a superficial wound. If a snake looks like it is going to strike, it is best to not handle it. Relax when holding your animal – sit down and give the animal a chance to settle.
Exact Ball Python Care Sheet
Below you will find a wealth of ball python care information provided by our biologist.  Take some time to explore some of the various ball python care sections of our website.  Learn about proper ball python keeping including: