Description
The Fischer's Chameleon (Kinyongia fischeri) is best suited to being a visual pet and watching them is captivating. It is amazing to see them move with their rocking gait as if to mimic the twigs of a tree or bush. Watching them eat and the speed at which their tongue darts from their mouths to catch prey, is astounding. And as with almost any chameleon, they can also change their colors to help with camouflaging and hunting.
Fischer's Chameleon, also known as East Usambara Two Horned Chameleon, comes from Tanzanian and Kenyan rainforests.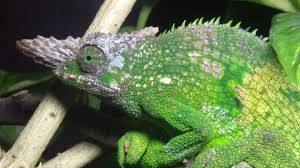 Hatchlings are 1-3 months old, well starts are 3.5-7 months old, and juveniles are 7+ months old. The size will vary greatly since the age range is so broad. Whatever is on hand at the time of purchase will be what is shipped.
Looking for a chameleon for sale? look no further.  We have a full selection of Panther Chameleon, Veiled Chameleon, and other species of pet chameleons for sale online.