Description
Indonesian Halmahera Blue Tongue Skink for sale
CB Reptile has the nicest captive bred baby Halmahera blue tongue skinks for sale anywhere!
Tiliqua gigas gigas for sale
Blue Tongue Skink Care Guide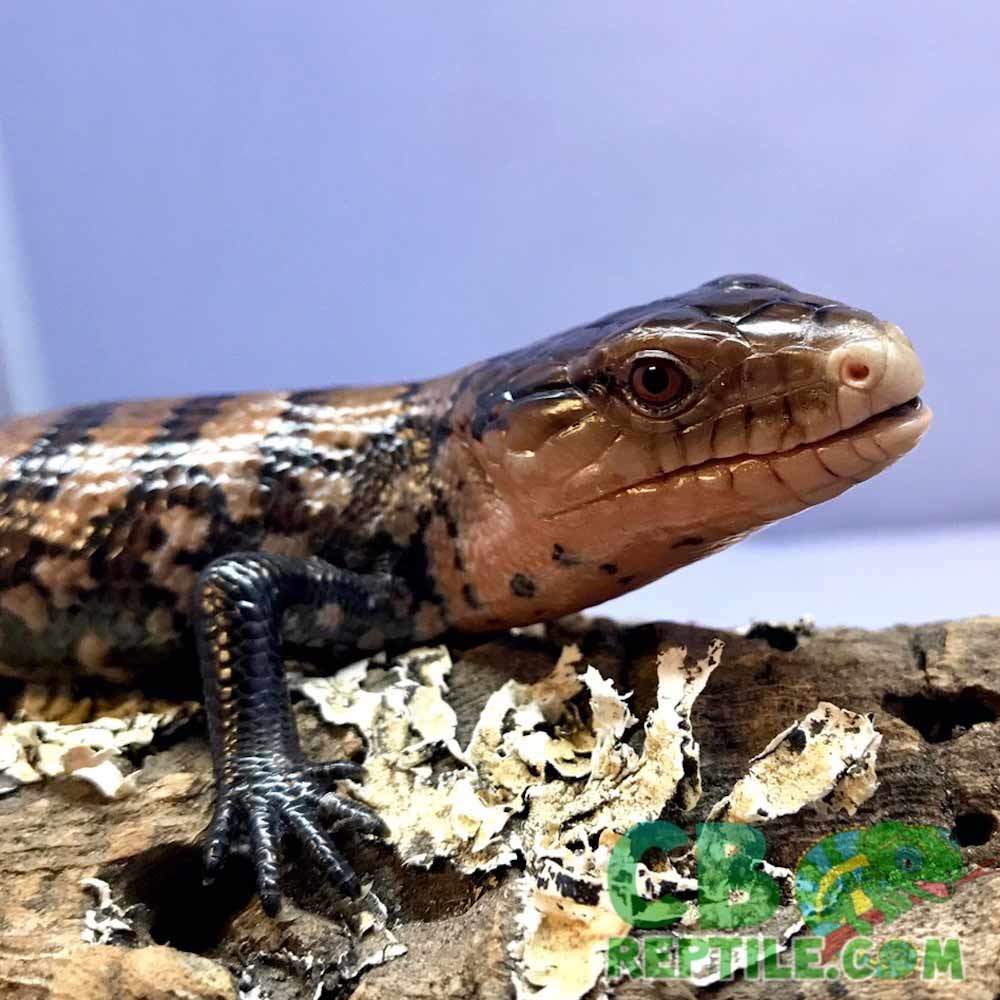 Blue tongue skinks for sale are some of the easiest lizards to keep. They are chalk full of personality and have wonderful, quirky dispositions. Baby blue tongue skink for sale have smooth, shiny scales and of course their signature bright blue tongue. Blue tongues are extremely hardy and can live around 20 years in captivity. They give birth to live young and can have anywhere from 5-15 babies. Once fully mature, adults will reach a length of around 18-22 inches. Blue tongue skinks come from either Australia (Tiliqua scincoides) or from Indonesia (Tiliqua gigas). Halmahera blue tongue skinks for sale come from the Halmahera island of Indonesia. Both species have similar care requirements and can easily thrive in captivity.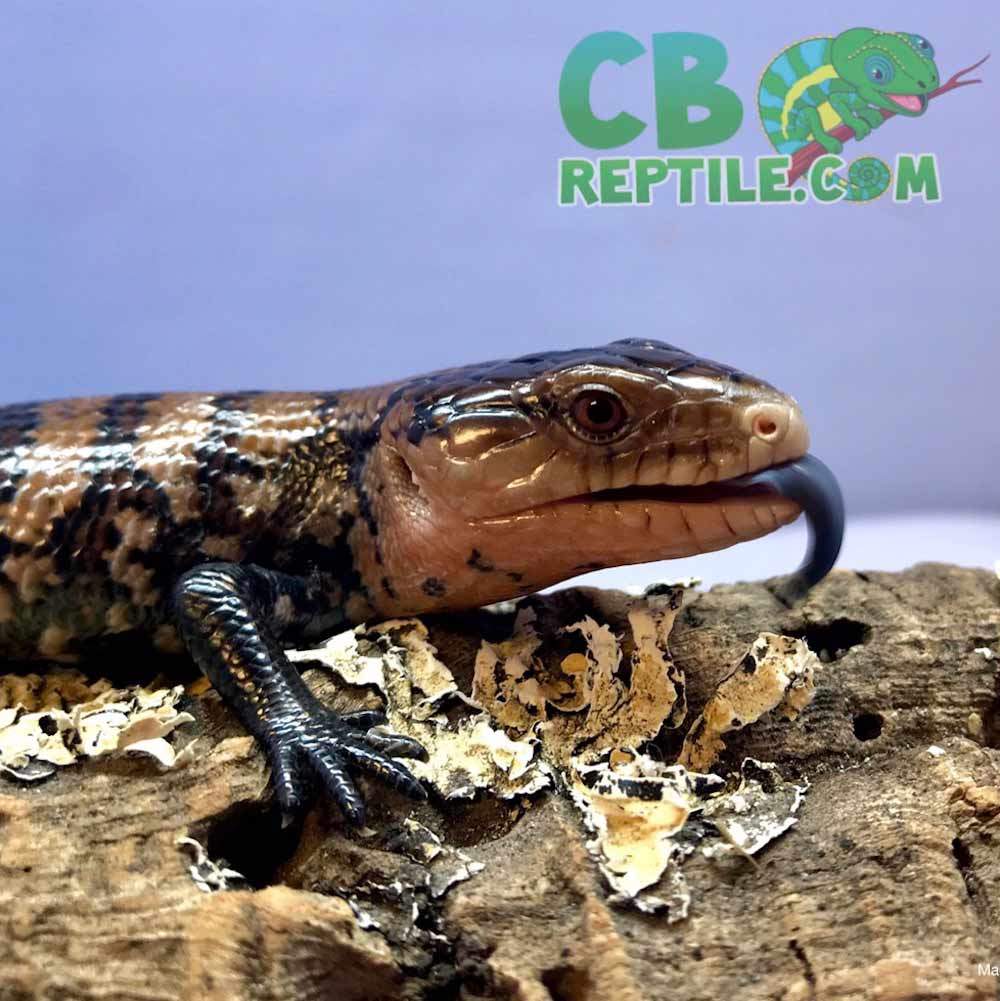 Cage Requirements
     Before bringing home your new blue tongue skink, having their habitat pre-set up will save both you and your skink a lot of headache. Blue tongues can live happily in either a rack system or a glass aquarium tank setup. Baby skinks can be started in 10-20 gallon glass tank or in a 12-28qt tub rack system. As they grow older, they will need to have a larger tank that suits their size a bit better. Juvenile and adult skinks should be kept in either a 40 gallon breeder glass aquarium or a 32-41qt rack system, the bigger the better with adults. It is generally best to keep blue tongue skinks separately except for breeding purposes. Whichever caging method you prefer, always remember to make it escape proof. A simple locking screen top on an aquarium will work perfectly.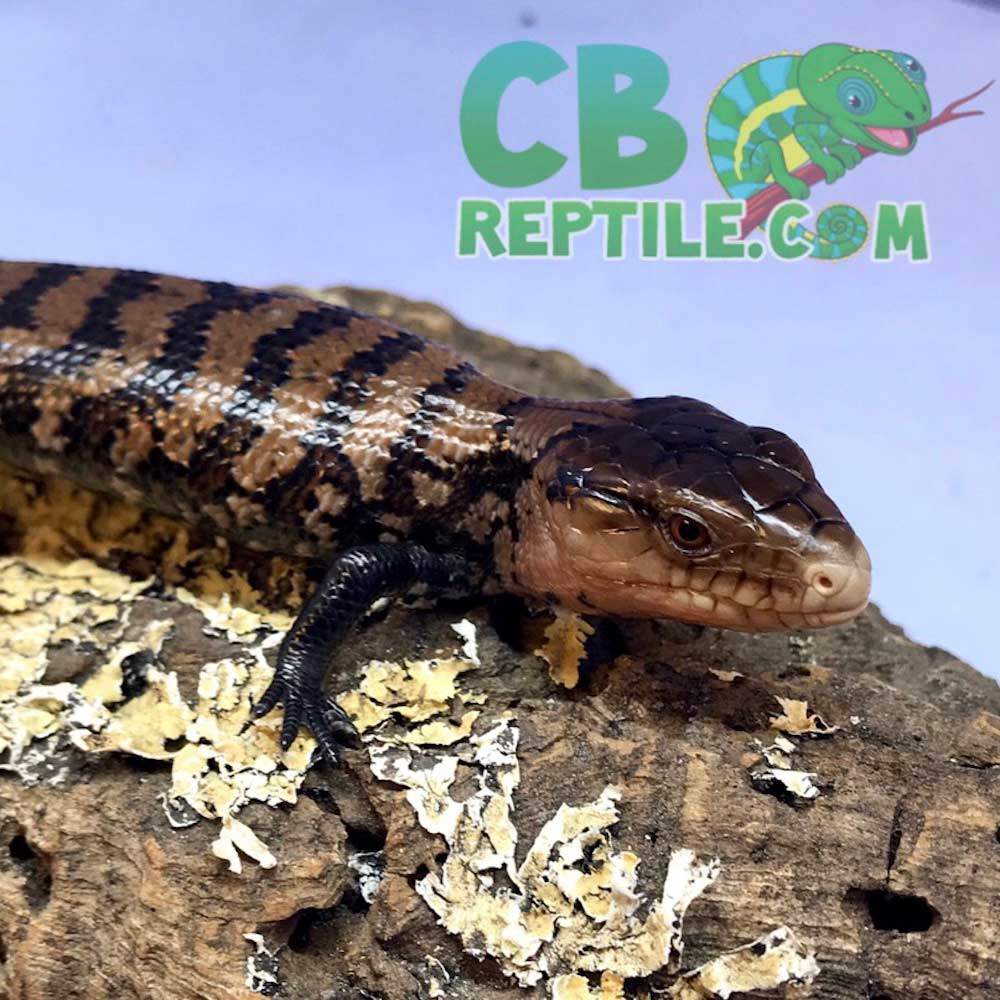 Blue Tongue Skink UV Lights
     The Halmahera Blue tongue skink is a cold-blooded reptile.  Cold blooded means the blue tongue skinks for sale need to rely on their environment to produce the correct temperatures. Providing a warm side and a cool side will allow the blue tongue to thermoregulate themselves by moving to whichever temperature they feel they need at the moment. A cooler side of the cage should be around75-80F and the hot side should have a hot spot of 92-99 Degrees.  Keep in mind that the temperature gradient can be achieved in a number of different ways. Also the most popular method with glass tanks would be an under tank heater like a heat mat or a heat lamp from above.  As blue tongue skink breeders, here at CB we keep our skinks with full spectrum UV.   Lastly, your UV should be on a 12 hour on/off cycle.  Keep in mind that there are many breeders that successfully keep and breed blue tongue skinks for sale them in rack systems without using any UV lighting.
Humidity
     Most skinks that are kept in rack system are heated with heat tape or heat cable. Whichever heating method you use, be sure to hook it up to a high quality thermostat. We will always use and swear by Spyder Robotics herpstats for our thermostat. The thermostat will read the temperature in the tank and turn the heat on if it gets too low, when the temp rises to the appropriate temperature it will cut off and never let the tank overheat.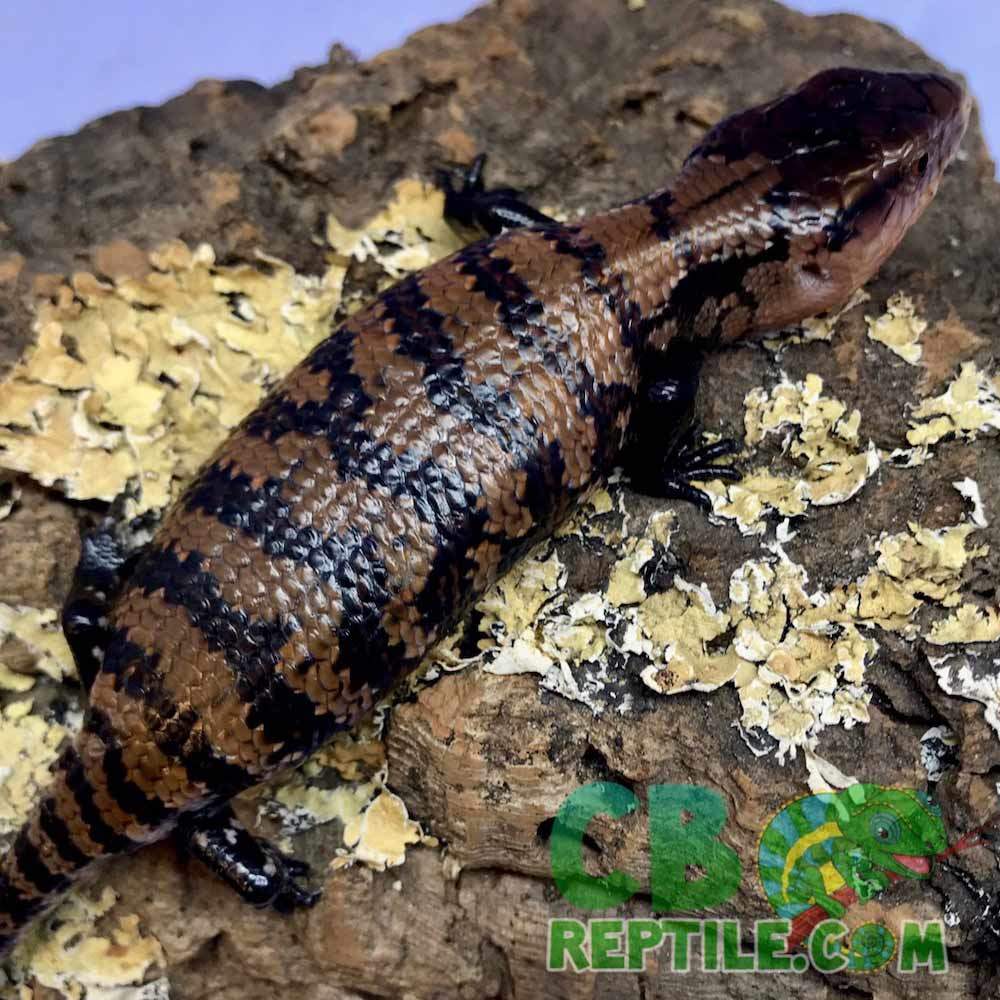 Humidity (moisture levels) within the enclosure is important to keep your blue tongue healthy. Blue tongue skinks prefer a moderate humidity level around 40-45%. The substrate should be moist, but never wet enough for water to puddle. Correct humidity will not only keep your skink happy but it will allow it to have a proper, healthy shed. Different elevations and places around the world will have drastically different levels of humidity. The easiest way to monitor your tanks levels are through the use of a hygrometer, which can be found online or at many retail pet stores. Raising the humidity can be achieved by placing a large water dish closer to the hot side, or misting the tank. Ventilation is important to take into consideration when measuring humidity. If you need to adjust the moisture level in the tank, increasing the amount of ventilation will decrease the humidity and vice versa.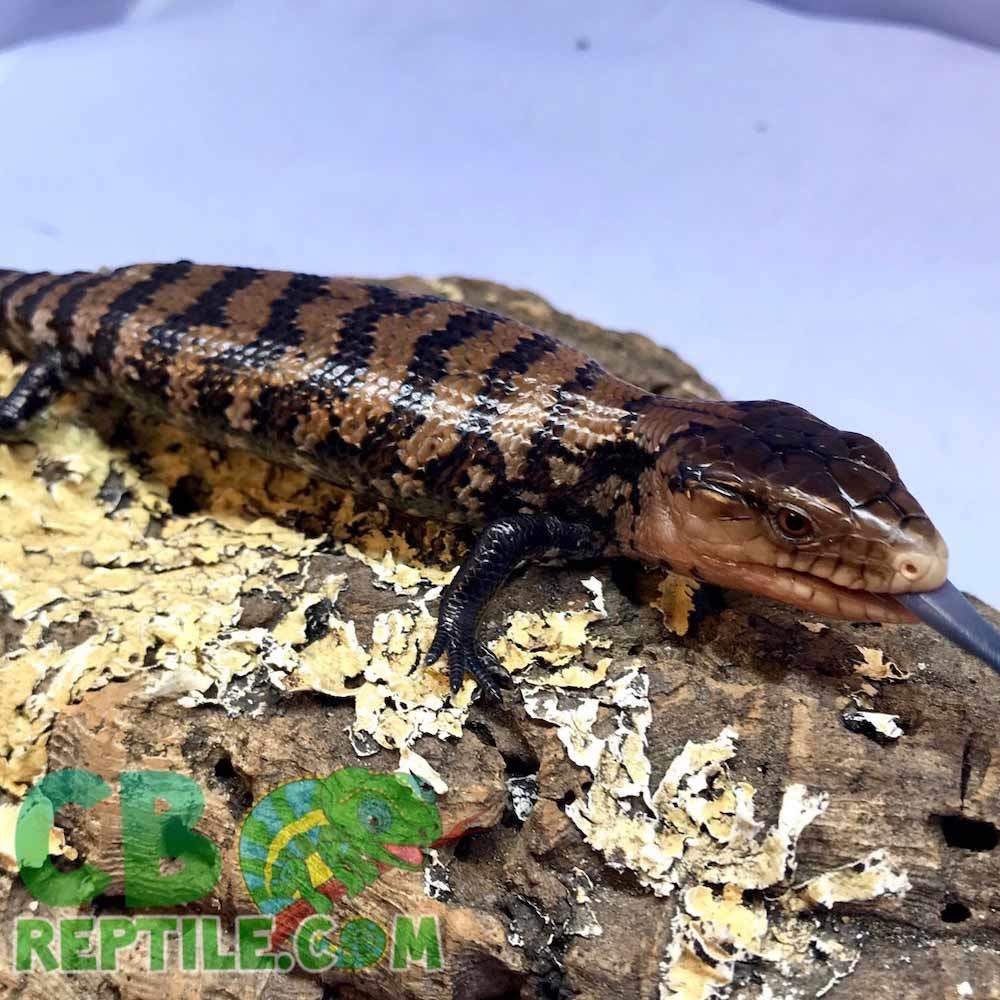 Water for blue tongue skinks
     A clean, fresh water bowl should be placed in the blue tongues enclosure. A heavy bowl is suggested so that the skink does not accidentally tip it over and spill all of the water. Water should be changed every day or should be changed immediately if it gets dirty. I would also recommend a bowl sturdy enough to make it through a high temperature dishwasher. The water bowl should be disinfected on a regular basis. If it cannot go through the dishwasher, or it is easier to hand clean it, simple soap and water will work wonders. Be sure to thoroughly rinse any cleaning solution out before replacing it with cool, fresh water for your blue tongue. I would also recommend a bowl large enough for the blue tongue to fit in, as we often see ours soaking for a short dip.
     There are many substrates available for you to use within your blue tongues tank. Mulch and aspen are very popular. We personally use a coconut fiber and coir chunk blend, we feel that it makes spot cleaning a breeze and does a wonderful job holding humidity. It also allows the skinks to easily burrow in their substrate if they please. Pet stores carry a wide diversity of substrates in many different sizes. Newspapers or liners have also been used in tanks and racks for years with great success. We do NOT recommend using any cedar bedding with your snakes as it has been known to be toxic and can be extremely harmful!
     Having a hide in a rack system is optional but it is necessary for a tank setup. A hide will allow them to go to their safe place if they ever feel stressed out. If you have a large enclosure, we would recommend using multiple hides so your skink has a few different options. A hide on the hot side and cold side, will allow the skink to hide in comfort without having to choose being too hot or too cold if you only have one hide in the tank. Make sure the hide is large enough for the entire blue tongue to fit inside or underneath. If you would like to add some extra items to your tank, logs or branches can be used and you may often see your skink hiding under them.
     Cleanliness is vitally important to your skinks health. "Spot cleaning" any messes every day or immediately after you see your blue tongue mess the cage. The tank, water bowl, and all extra hides/branches in the enclosure should be thoroughly cleaned at least once a month. Running the items (that fit) into a high temperature dish washer with soap is a great option to sterilize. Scrubbing with soap and thoroughly rinsing the items and tank have also worked tremendously for people. We use an F10 solution for cleaning our tubs in our rack system. F10 is a veterinary grade disinfectant that we order online from Reptile Basics. Cleaning the tank and items may vary with how busy and messy your blue tongue is, but remember that a clean tank means a healthy skink!
Feeding a helmahere blue tongue skink
     Indonesian Halmahera Blue tongue skinks are omnivorous, which means they eat both plants and meat. A well balanced diet will assure your skink grows up healthy. We strive for a 50/40/10 meal plan with 50% veggies and green, 40% meat/protein and 10% fruits. Variety is key and it is a good idea to switch up different food sources so skinks don't become picky eaters. Greens can include collards, kale, peas, mustard green and bok choy. Some fruits would include bananas (which is a favorite of our skinks), blueberries, melons and apples. The meat provided should always be thoroughly cooked and can include chicken, turkey, insects, eggs or a high quality wet dog food.

     Baby blue tongues should be offered food every single day to ensure they are growing properly. Adults can be fed every other day. Uneaten food should be removed immediately as to not attract unwanted bugs. A few food options to avoid are rhubarb, avocado, eggplant and high citrus fruits. A quality vitamin/calcium should be used every other feedings to ensure your skink gets proper supplementation. During the winter months, an adult skink may lack an appetite however food should still be offered.