Description
HET for Ivory African Sulcata Tortoise for sale (Spur thighed tortoise for sale)
We have some fantastic captive bred HET for Ivory African Spurred tortoise for sale.  The Ivory African Sulcata for sale is one of the most popular pet tortoise for sale in the United States and is also known for being one of the largest species of tortoise for sale in the world, growing to 18-24″ and up to 150 lbs.  Average size is 18″ and 90 lbs at 25 years of age.  We currently have African Sulcata hatchings for sale, 6-month-old well started baby sulcata tortoise for sale(recommended over the more fragile hatchlings) and cute and plump1-year-old sulcata tortoises for sale in stock.
African Sulcatas or African Spurred tortoise is from the dry aridesertrt of Africa and primarily grazes on grasses and dry weeds.  In captivi,ty they enjoy an easy diet of spring mix, dandelion greens, and Mazuri tortoise chow, dusted with calcium twice per week.  They are easy to care for, and besides getting large, are fantastic pet tortoises.
Sulcata Tortoise (
Geochelone [Centrochelys] Sulcata
)
The most produced pet tortoises in the world is the sulcata tortoise for sale of north central Africa. Sulcata tortoises for sale are sometimes referred to as African spurred tortoise for sale, African spur thigh, and just spurred tortoises for sale. As recently as a few decades ago baby Sulcata tortoises for sale were rare in the United States, but they have shown an amazing ability to adapt to various climates and habitats in captivity, and their low cost combined with a curious personality make them tortoises that are commonly sought after by first-time tortoise owners.
Sulcata Tortoise Life Span
Because sulcata tortoises haven't really been raised from birth for very long, it's still hard to determine what age a well-raised sulcata born into captivity is capable of living to. Raised on a lean, high-fiber diet, captive-raised animals in low-stress environments have higher life expectancies. Most indications are that sulcata tortoises can live more than 70 years.
Sulcata Tortoise Size
Sulcata tortoise hatchlings measure approximately 1½ to 2 inches in carapace length. Growth rates of sulcatas are probably more variable than any other tortoise. You could literally have a 10-inch tortoise that is 3 years old or 10 years old. Many adult sulcata tortoises break the 100-pound mark. However, most of the large sulcatas in our collection aren't much over 100 pounds, but we do have a few
ulcata Tortoise Food
Sulcata tortoises are eager eaters, rarely turning down a meal. With adult tortoises, the best staple diets are various grasses and leaves, the same as their natural diet. They will graze on any of the lawn grasses, mulberry leaves, grape leaves, hibiscus leaves and flowers. With size, most sulcata tortoises will eat grass hays (we like orchard grass hay). Baby and smaller sulcatas have a harder time eating the tougher grass and hay because of their less powerful jaws.
Sulcata Tortoise Availability
Sulcata tortoises for sale are bred on a large scale in the U.S., generally in the Southern states, from coast to coast, where it is easier to keep them outdoors year-round. Captive-bred baby sulcata tortoises are available from many sources, including; local pet stores, reptile expos, and directly from breeders.
Sulcata Tortoise Caging
Because of their size, sulcata tortoises are best kept by those who have access to an outdoor area, where their tortoise(s) can be kept for most, or all, of the year.  Most Sulcata tortoise breeders keep our sulcatas in a desert-type setup outdoors with a large grass area in the center and dirt around the perimeter. They commonly "patrol" the perimeter of their enclosures, so we leave it dirt there because any grass would just be destroyed with time.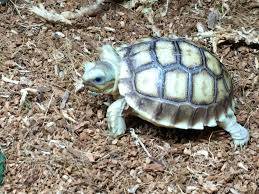 HET for Ivory Sulcata tortoises for sale
Our African Sulcata tortoises for sale come from top quality adult African Spur thighed Suclata tortoise breed stock and exemplify the species standard in both color, and temperament.   Sulcata tortoises for sale are fairly EASY in terms of care level, and make great additions to any tortoise collection especially once they are at least 6 months old which is why we always recommend the well started 6 month old baby sulcata tortoise for sale over the fresh hatchling sulcata tortoises for sale online.
More than just Ivory Sulcata tortoises for sale
The nicest reptiles for sale online